As a first-time mum of a 6-month-old and with a husband who suffers from severe psoriasis, I was attracted to the many benefits offered by this product. Kind to sensitive skin and no harsh chemicals were the two big draw cards for my family. I have an older top-load machine so appreciated that the product works with either style of washer.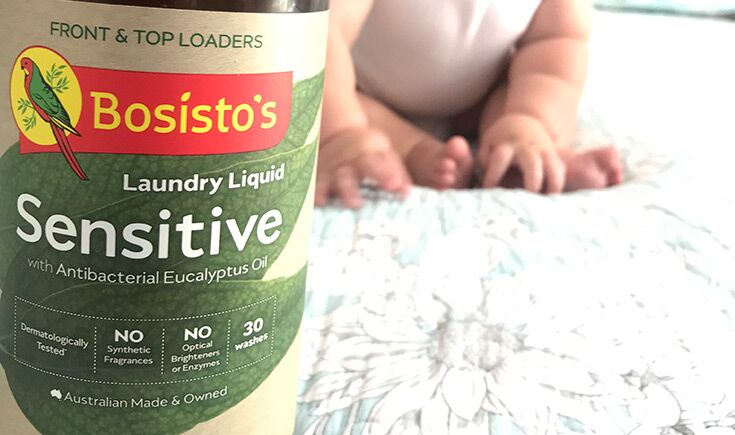 Bosisto's Sensitive Laundry Liquid is attractively packaged with clear and crisp labelling that highlights the many benefits of the product. I appreciated the bold and bright label which really catches your eye and packs a powerful punch with its direct approach to product information.
I completed a load of regular washing using the directions on the back and was pleasantly surprised with the outcome. Everyday dirt was removed, whites even without pre-soaking, came out clean and bright and overwhelmingly good was the fragrance and softness (I used no fabric softener with this wash) of the load thanks to the antibacterial eucalyptus oil. Our clothes were clean AND smelt clean as opposed to just smelling fragrant. Bubs blankets were fluffy and soft.
I used the pre-soak directions on the pack to soak a few items that were more heavily soiled. I soaked for the minimum amount of time only (30min) and washed as normal using Bosisto's. Stains that I would normally leave soaking overnight, practically disappeared once through the wash, with no harsh chemicals used in the liquid. Amazing! My husband has not complained of any skin irritation while using this product either.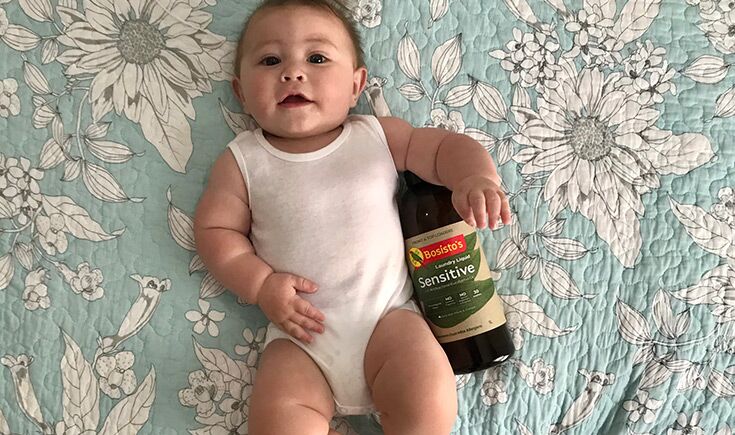 Benefits
There are many reasons to like this product. For our family this product is basically a 3 in 1; stain remover, washing detergent and fabric softener, I was really impressed. As a mum I feel good knowing that I am taking care of my families' skin, using a product that is dermatologically tested and has no nasties, containing no harsh chemicals. I am doing something positive for the environment by using a product that is eco-friendly and supporting a fully Australian made and owned product, which is important to me as a consumer. Furthermore, being able to use the product in 3 ways means that this is a savvy buy for us. With a little over 30 washes from 1 bottle, a load would cost us about $0.32, a definite saving financially (when considering the total of our usual brand of liquids, soakers and softeners) and a good investment health wise. Living in a regional area, I am excited that Bosisto's is stocked by Woolworths.
Improvements
My one minor gripe with this product would be the lid. It's too small to correctly measure out the laundry liquid needed and becomes a little messy. However, this is insignificant when considering the benefits. I would without a doubt recommend this product to other mums.