Transitioning from a bassinet to a cot is a big milestone for you and your little one. While it can be exciting that they are now big enough to roll over, selecting a cot that you can ensure they will sleep safe and sound in, can be daunting.
The Boori range of compact and oval cots are the perfect place to start your search. Boori Baby Cots have been designed to save space in the home without compromising on quality. These cots are slightly smaller than traditional cot beds, and are crafted from a combination of engineered timber and sustainably-sourced Australian Araucaria wood.
Petite in size and with lockable castor wheels, these cots are easy to maneuver throughout the home – they even fit through a standard door frame!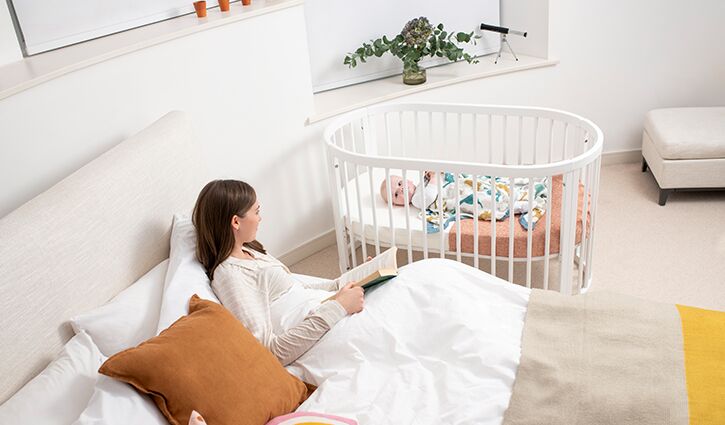 Boori baby cots have two base heights, meaning they'll grow with your child and will last from birth to toddler age. The cots are finished in nursery-friendly paint which enhances the natural beauty of Boori's sustainable timber.
Heron Compact Cot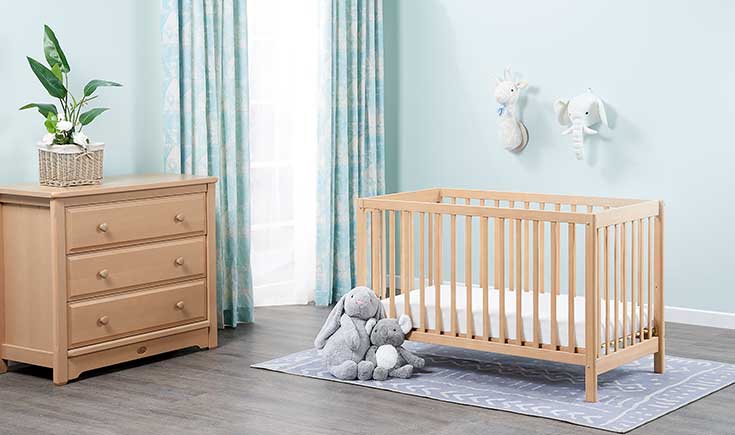 Features:
Suitable for ages 0 – 3 years
Crafted from a combination of engineered timber and sustainably-sourced Australian Araucaria
Unique paint finishes that are nursery-friendly and enhance the natural beauty of the sustainable timber
2 base height options – higher base height for easy access to newborns, lower base height for when baby is able to pull themselves up
Flat packed and easy to assemble
Convenient, compact space-saving cot which is ideal for apartment-living
Width – will fit through a standard door frame
Lockable castor wheels for easy mobility throughout the home
Requires Boori Compact Cot Mattress 119 x 65cm
3 Year Warranty
RRP $299.95
Click here to view the Heron Compact Cot on the Boori Website
Turin Compact Cot
Features:
Suitable for ages 0 – 3 years
Crafted from a combination of engineered timber and sustainably-sourced Australian Araucaria
Unique paint finishes that are nursery-friendly and enhance the natural beauty of the sustainable timber
Two base height options – higher base height for easy access to newborns, lower base height for when baby is able to pull themselves up
Lockable castor wheels for easy mobility throughout the home
Flat packed and easy to assemble
Convenient, compact space-saving cot, ideal for apartment-living
Width – will fit through a standard door frame
Requires Boori Compact Cot Mattress 119 x 65cm
3 Year Warranty
RRP $399.95
Click here to view the Turin Compact Cot on the Boori Website
Harbour Compact Cot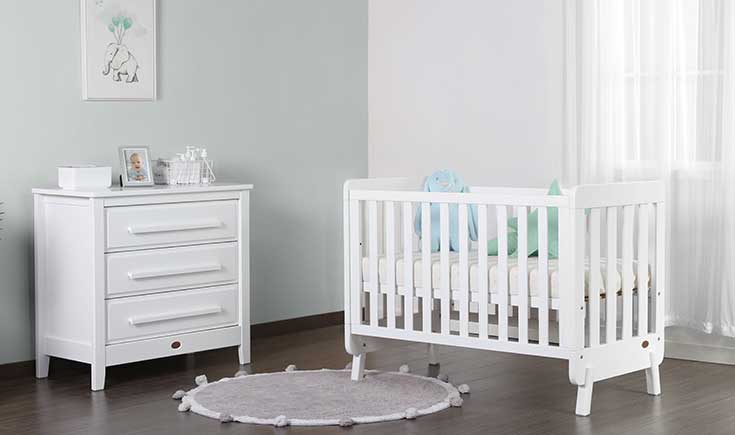 Suitable for ages 0-3 years
Crafted from a combination of engineered timber and sustainably-sourced Australian Araucaria
Unique paint finishes are nursery-friendly and enhance the natural beauty of the sustainable timber
Two base heights options – higher base height for easy access to newborns, lower base height for when baby is able to pull themselves up
Flat packed and easy to assemble
Convenient, compact space-saving cot, ideal for apartment-living
Width – will fit through a standard door frame
Requires Boori Compact Cot Mattress 119 x 65cm
3 Year Warranty
RRP $459.95
Click here to view the Harbour Compact Cot on the Boori Website
Oasis Oval Cot
Suitable for ages 0 – 3 years
Unique curved cot design crafted with sustainable solid wood
2 base heights allow for easy access to baby
Smooth spindles increase airflow for a comfortable night's sleep
Lockable castors and increased visibility – the perfect alternative to traditional bedside sleepers
Transforms into a toddler bed and cosy sofa, no guard panel required
Unique paint finishes are nursery-friendly and enhance the natural beauty of the sustainable timber
Oval mattress available separately
Oval bedding available directly from Boori
Base panel made from wood composite to provide support and stability
Available directly through Boori, or through Baby Bunting stores
3-5 Year Warranty
RRP $799.95