So, you want to give your baby a bottle, but not really sure where to start? As you would have discovered, there's an overwhelming array of bottles on the market, all with unique designs, materials, and special features.
As with nearly every decision you make about baby products, you will want to find something that suits your needs, values, and lifestyle. Your baby has to like it as well!
b.box, one of Australia's most recognised brands for it's sippy cups and feeding products, has clearly been listening to the preferences and challenges of parents and babies. They have just launched a baby bottle that we think is going to tick all of the boxes!
Why parents are raving about b.box Baby Bottles
Made from a high quality, medical grade PPSU plastic that is naturally honey-toned and lightweight for comfortable parent-led and baby-led feeding
They won't go cloudy like other plastic bottles might because they don't absorb odour or colour
The teats are anti-colic and made of soft silicone that are gentle on mouths and gums
Durable enough and break-resistant to use for regular, long-term use, so you can use them throughout your baby's full bottle-feeding journey
They come in two sizes (180 ml and 240 ml), and teats are available for 3 stages to suit baby's development and natural sucking patterns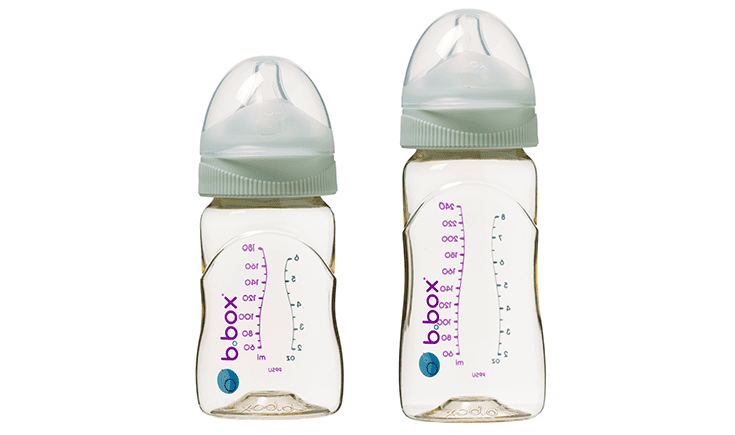 The rim and the cap are designed to be easily removed (by you, not bub), and the bottle is oval-shaped so it won't roll under the couch if you drop it
Designed to withstand high temperature washing and sterilising to keep it super hygienic and protective of baby's immature immune system
Many older bubs like to try to feed themselves, so b.box has created ergonomic handles to support self-feeding and independence
The bottles are non-toxic, and free from nasties like BPS, BPA, and phthalates, so you know your baby is safe
They come in 3 gorgeous soft colour combinations: Lullaby Blue, Peony, and Sage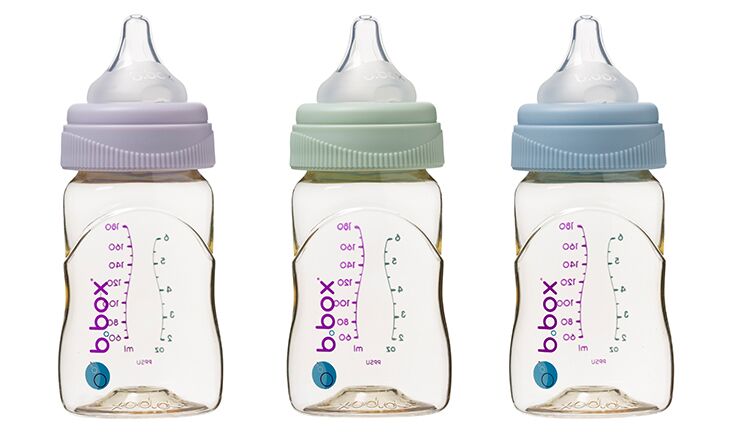 The measurements are marked clearly on the bottle, making life that bit easier for a sleep-deprived parent
b.box Baby Bottles are designed for every bub
Whether your little one suffers from colic, is both breast and bottle-fed, solely bottle-fed from day one, or is an older bub who would like to hold the bottle themselves, the b.box Baby Bottle is suitable for every stage of development and frequency of use.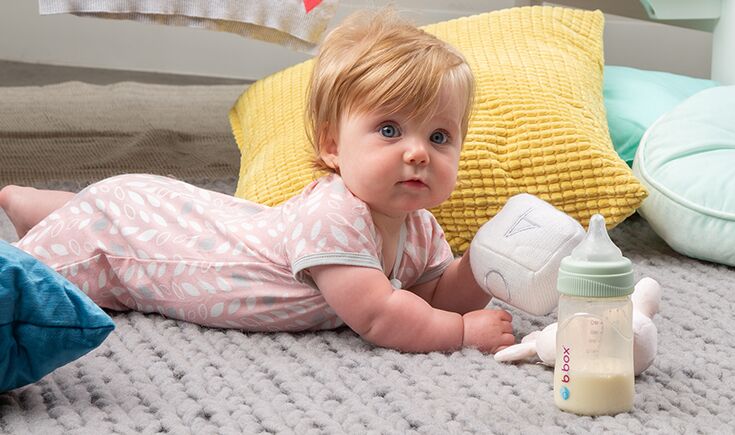 You'll have peace of mind knowing it will last and last, and is made from a safe durable plastic. Oh, and it looks pretty cute too. So, the only decision is which colour to choose…or, just go with all three!
180 ml PPSU Baby Bottle RRP $17.95
240 ml PPSU Baby Bottle RRP $19.95
Baby Bottle Handle RRP $7.95
2 pack Anti-Colic Teats (stages 1, 2, 3) RRP $8.95
Order yours from b.box's website here